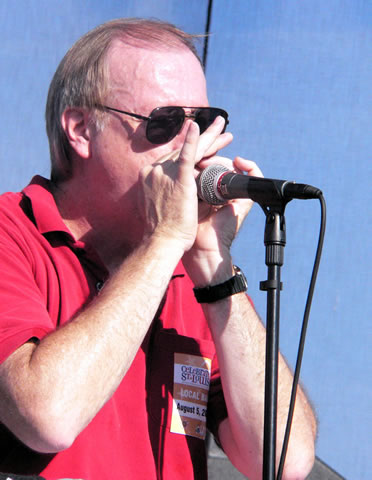 Photo by: Stlblues.net
I got into the blues thing while in college and saw a harmonica player in a blues duo at a campus coffee house. I told myself I had to learn to play that harp. Two years later I was playing gigs in the bars, pizza joints and coffee houses around the U of MO, Columbia, doing acoustic delta blues. My early influences were Sonny Terry, Shaky Jake Harris, Paul Butterfield and Sonny Boy Williamson. After college I played in a couple rock and blues bands that went no where and gave up on performing for about 20 years. I hit the St. Louis blues scene in 1994 again, going to jam sessions to polish my chops and get to know the players. I've got to say this St. Louis blues scene is great with a ton of good folks in it. I joined Pocket Change because it's a fun group: good people, no attitudes, good musicians playing fun bar-blasting, bootie-shakin' blues you can use.
Since I resumed playing in 1994, I've been fortunate enough to have gig'd with the Buffalo Bob and The Bedroom Blues Band, the Blues Casters, the Melissa Neels Band, Rich McDonough Acoustic band (with Kenny "Blues Boss" Wayne sitting in from time to time), Rob Garland and the Blue Monks, The Bottoms Up Blues Gang, the Phat Bottomed Monks, The Folk'n Bluesgrass band and the Riverside Acoustic Blues duo. I've also performed regularly with Brian Curran and with Johnny Fox, mostly just sitting in for the fun of it. During a four year run with the Melissa Neels Band, I enjoyed playing at The Big Muddy, Sparta (on the billing with Michael Burks, Ike Turner, and Little Milton), Washington, and Quincy Blues Festivals; Blues On The Mississippi Concert Series, Becky Thatcher (Blues Cruise), Fox News Channel 2 (on air performances), KDHX 88.1 (on air performance), and Soulard Mardi Gras. At various times I've been part of the opening warm-up for Chuck Berry, Anthony Gomes, and Hamilton Loomis. Most recently I had the pleasure of performing with Johnny Fox as warm up for Kenny Wayne Shepherd at "Live on the Levee." I can be found laying down harp on CD's by Melissa Neels Band, Johnny Fox's CD "Last Call," and a yet to be released Kim Massie CD.
Only harp players are much interested in my rig, but here it is. The amp is a Sonny Jr. 1, custom harp amp. It is all tube with four 8-inch speakers. I use a couple of boxes. The first is a Boss Acoustic box for some reverb and "EQ." The second is a Boss octave box. I drive all this with a bullet mike that has a JT30 shell and volume control with a controlled magnetic cartridge from a Shure green bullet in it.
And that's it. If you read this far, see a good psychiatrist about your masochistic tendencies.