11/28/2014

Not enough time to update calendar so I will put it on the front page.


Happy Thanksgiving everyone

Hope your Thanksgiving was great, and hope we can help make it better. We are playing Saturday night 11/29/2014 at
The Great Grizzly Bear in Soulard. Bring you out of town family and fiends and lets enjoy some live music.
This is historic Soulard area, if you have never been here, no time like the present. We start at 8:00 PM, but come on down early for dinner, great food, and cold drinks.

Hope you can make it

11/15/2014

Good times at the 61 Road House last night. We met some great people and had lots of fun. Snowy night in St. Louis, already, so the crowd was slight, but those who were there were into it.

10/11/2014

Another chapter for Pocketchange Blues Band. Our first event with the Cystic Fibrosis Foundation was Saturday 10/11/2014. The event was held at T.R. Hughes Ball Park in St. Peters Mo, and the rain stayed away. Hard to believe, especially when it rained the entire night before as we were trying to set up the stage, tents, and get the lot ready for all the bike riders. Special thanks to Christie Derbin, Colleen Caul and the entire CF committee for braving and trusting me with the entertainment this year. We had a great time, and look forward to many years together.

08/04/2014

61 Roadhouse in Webster was the scene Saturday night. Fun place to play and thank you for a great turn out. The Ryan's were in the house!! And made some new friends also. Good times, hope you can join us next time we are there.

06/08/14

The Great Grizzly Bear was hopping Saturday night Pocketchange was in the house. Great to see everyone and thanks for your support. Hope to see you at Eddies Pub on the 28 of this month.

06/01/2014

Fun night at The 61 Roadhouse last night. Made some new friends, and spent some time with some old friends. Shared a few drinks, and laughs just enjoying the evening. Not a huge crowd but a very warm crowd. I just hope you enjoyed the evening as much as we did.

05/04/2013

Have to laugh every time Tim sings his song "Jack and Coke" He never dreamed when he wrote the last verse how prophetic it would be. Woke up this morning, with three kids and a wife!!! Tim and his wife Beth now have three wonderful children Teddy, Quinn, Mason.

Eddies Pub was a great time last night, Paula and Dana and guests sure made it fun. And after Tom Young thrilled us with some fantastic bass lines, I was looking for Clay to join us with some crazy harp numbers. We had some guest singers as well, good night at Eddie's.

04/27/2014

Saturday afternoon at Eddies Pub, a little different but still had a great time. Hard to get used to saying "day" instead of "night". Kept saying thanks for coming out tonight, and are you having a rocking tome tonight, etc.

10/28/2012

Halloween is my favorite holiday!! Pimps and Ho's was the theme at Eddie's Pub last night. I did not take any pictures, because, lets just say, we are going to treat it like Vegas. What happens at Eddie's stays at Eddie's. If you missed it, well maybe next year. We dressed as "The Avengers" Tim was Thor, and I was the Hulk, I might be able to sneak a picture of that anyway. Larry was captain America, and Howard, well he added a new one. Larry's girlfriend (Paula) was a pirate! yes a pretty good one too!!. I guess you are wondering why we dressed like heroes when everyone else was pimps and ho's. I got the email too late!!! I had already purchased the costumes. I told Jake (one of the owners) that I was sorry for not dressing for the theme, but he said "That's ok, I can ho you out just like" So that was how the night started. Special thanks to Paula, for just rolling with it all, crazy night, and some real crazy things to see. Also, special friend and great guitarist Billy Rivers came in and jammed with us for some time. Thank you Billy, and great chops man.

08/18/2012

Eddie's Pub, St. Charles Mo. Tim was changing lyrics to a song to fit this guy dancing with his bird. The guy then came over and placed the bird on Tim's shoulder. The band kept on playing!! What a night.

Thank you Ron Bookout and Billy Berry's band members for a fun evening, Tom, Mike, great job, thank you very much.

Mr. Ron Goebel. thank you for your performance, part of the guitar army along with vocals, and "That's what I'm talkn about"

07/21/2012

Good times at The Great Grizzly Bear. Tom had a broken big toe, so Mr. Adrian House came out to join us. Adrian played some guitar and then filled for Tom on bass as he left around 11 pm. Thank you Adrian for you time and talents, was fun to hear you play again.

05/20/2012

Busy weekend coming up. We are playing Friday night 05/25/2012 at 9PM at Eddie's Pub, in St. Charles. This is a great little neighborhood bar on fifth street just north of 70. smoking is allowed here, so it is one of the last places for the smoker to come out and listen to some live music drink some cold beer, and still have a smoke. So bring your camels and come on out.

Then Saturday night 05/26/2012 we are in the blues Mecca, Soulard! We are at The Great Grizzly Bear from 9PM to 1AM. This is for the non-smoker. Great food, fun place, good cold beer, and of course great blues music.

03/07/2012

So much for some time off. The Great Grizzly Bear called and asked if we could play this Saturday night 3/10/2012. We are in, 9PM to 1AM. Hope you can join us, keep Tim awake!!

02/20/2012

Tim and Beth had a baby girl, on February 20TH. Quinn Patricia is the newest addition to the family.

We will be off for a few weeks, letting Tim recover.

02/11/2012

We had a great time at Eddie's Pub last night. Howard had invited the young Rivers brothers to sit in with us some time. They were kind enough to show up Friday night. Billy and Danny really set the bar high for anyone else wanting to sit in. Billy was great on guitar despite his brothers jabs (Don't Fuck Up). for a young man, he really had some chops, and lots of soul. Was a pleasure to watch and listen to him. Danny sat in on drums for several songs, and wow, what a powerful drummer. We had a blast, our good friend Ron Bookout brought in his Gibson ES-335 and dazzled us with some great slide work. All in all, one of the most memorable night I have had as a musician. Thank you to all involved.

08/30/2011

Getting ready for that Labor Day Weekend. Pocketchange is playing the Maple Day's Event this year on Saturday night 09/03/2011 with a start time of 7 PM.
Maple Days
3200 Laclede Station Rd.
Maplewood, MO 63143

7:00PM to 11:00PM
Pocketchange at Maple Days
This will be our 3rd year in a row at the Maple Days!!! I guess they like it! We always have a very good time at this event..It is one of our favorites of the year. Mark your calendar for this one, rides, games, food, funnel cakes..and Pocketchange under the pavilion, what more could you ask for. It's an early start, so bring the whole family!!!!


Hope you can join us

08/07/2011

Happy Birthday Dave Pike. We had Dave's 50th Birthday Party Saturday night. It was a hot one, but we had a great time. Special thanks to Dan and Sam for hosting the party and for putty up with us all night. Dan had several fans blowing on the band all night. Don't know if I could have lasted if those fans were not there. Sandy was our biggest supporter, she kept Larry smiling all night. She really wanted that tambourine.

07/24/2011

Nice time at the awards get together Sunday. Very nice location at the St. Peters Gold's Gym. They were nice enough to allow us to move inside on this very hot season we are in. Thank you Gold's Gym.

04/30/2011

Eddy's Pub was a blast Saturday night. We had Mike Hrubes join us for the evening. Pulled out that Gibson when the crunch was required, and brought some Marshall power to the show. Thank you Mike, great time, and you sounded awesome!

04/10/2011

Joe Beaty brought out that Gibson Les Paul to play a set with us last night at The Great Grizzly Bear. Thank you Joe, loved it. Congrats to his daughter Jessica for being accepted to Mo. State Univ. for her Masters degree. I know the family is very excited and happy for her. It was a party last night for Jessica.

03/27/2011

Well the snow did not keep everyone at home. Thank you for coming out to Eddies Pub. When we walked in it looked a little sparse. But as the night went on, more people kept coming in. Fun times, and even ended the night with a snowball fight!

03/12/2011

We put our newly acquired Vox Cambridge Reverb amp to the test Saturday night at The Great Grizzly Bear! All went well, she really sounded great. Now to build a new pedal to control the reverb and tremolo. Many thanks to my friend Lon Barkley for his donation of this vintage amp. He played this amp for years in his youth, and has now passed it on to Tim.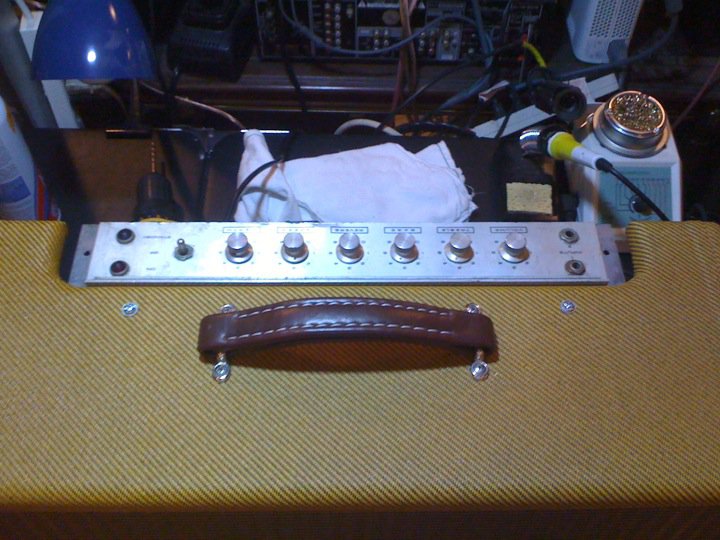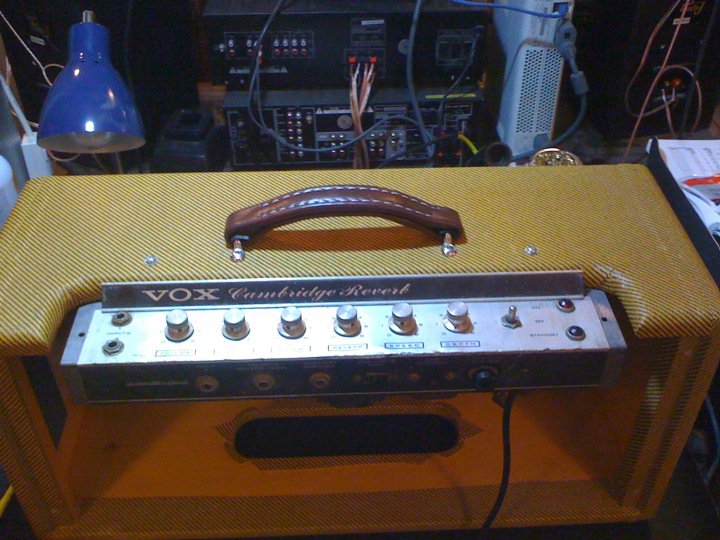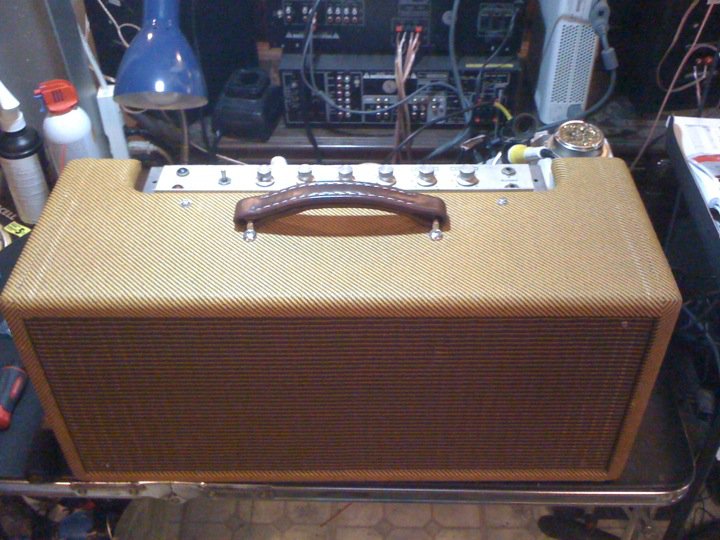 02/19/11
Eddy's Pub was rock'n last night. Thank you Bo Cephus for bringing out that Les Paul. We had a great time, hope you enjoyed playing as much as we did. Fun rock'n the blues with the Les Paul.
01/29/2011
Special thanks to Mr. Ron Bookout for spending his Friday evening with us. We usually get a small taste of his slide guitar, but he played from start to finish. For those who were there, they really had a treat. Howard, Tim and Ron kept the solo's coming all night long! Eddy's Pub was rocking Friday night.
01/15/2011
Fun night at Borgetti's Friday. Some confusion on our part, sorry about that. My email, and facebook page all stated the gig was at Teammates. However, the new owner (Joe Borgetti) had renamed the place and we did not know that. To further complicate things, he hung a new sign up with his name on it. We had a heck of a time finding it. But after we did, and many of our friends found it also, we had a good time.
01/01/2011
Happy New Year Everyone. Thank you for your support at The Great Grizzly Bear. We had a great time New Years Eve. The Grizzly Bear has a great program, no cover, with a breakfast at midnight, and party hats, champagne and great people.
12/30/2010
Getting ready for the New Years Eve party at The Great Grizzly Bear. Hope you will be able to join us. The music starts at 9PM, the party starts when ever you arrive! The have a breakfast at 12:00 pm with party hats etc. to bring in the New Year. No cover charge, so come on down.
12/19/2010
Eddy's Pub was rocking last night. Special thanks to Josh for sitting in for Larry and keeping the beat for us all night long. Not to mention that he brought the average age of the band down quite a bit. He is much better looking than all of us too! Eddy's patrons made sure to remind me between sets, they loved him.
We are looking forward to our third annual New Years Eve party at the Great Grizzly Bear this Friday night. They do not charge a cover for this event, and have a real nice breakfast buffet served after midnight. Hope you will join us.
10/31/10
Special thanks to Mr. Larry Griffin who sat in for Tim Saturday night. Not much to ask a guy to sit in, but to take over, and run the whole show is another thing. Larry did a great job for us. For those who did not make the show, here is a little bit of Larry doing the "cross-cut saw"
http://www.youtube.com/watch?v=16hPJLiwFmI
10/25/10
We want to thank Chad and Ann for sticking out the evening with us at the Great Grizzly! Newly married, and out for a good night of Blues music, so they joined us at the Grizzly. No Washington Ave. for these guys, nothing but live music! Very nice to meet you two, and hope you will join us again, and convince those downtowner friends of yours that there is nothing wrong with a night out with Pocketchange!
10/03/10
Pretty good time in St. Charles last night. We played at Eddies Pub on Fifth street. All went well, we brought out a new powered sub, and it performed great. New place and new gear, what a combo. Hope to see you at Creve Couer Park Saturday.
09/29/10
It has been a crazy summer. New job, working construction has kept me away from the computer. Hopefully as winter sets in, we will slow down some so I can catch up.
We have a new place to play, thanks to Mr. Howard Young. Edie's Bar and Grille in St. Charles. It is on fifth street just north of 70. It is on the right just before First Capitol Drive. Hope you can make it out.
03/21/10
We played a new location Saturday night. We were in South County, at Growler's Pub. It sounds like we will be back there again, so make sure you catch us there next time. Keep an eye on the calendar as we are playing a few new venues, and of course some of the same clubs we have played at for some time. Hope you will join us.
01/01/10
Happy New Year!
Pocketchange brought in the new year at The Great Grizzly Bear in soulard. This was our second year there and we had a great time. The Great Grizzly does a very good job at hosting this event. No cover charge, midnight breakfast, champagne, whistles, hats and plenty of fun. Dinner this year, was a steak, baked potato, green beans for $9.95. What a deal, get there early, great dinner, some beverages, then breakfast before you leave. Very good crowd control, no incidents at all. Even if you are not a drinker, this is a fun place to bring in the new year, plenty of people watching to keep you entertained also. Not a mention a pretty decent band.
12/12/09
Good times at Riddles last night. Special thanks to Mr. Tim Heidemann for keeping the beat for us while Larry is recovering from surgery. Tim is a very solid drummer, and has joined us on stage several times over the years. Thanks again Tim, we really appreciate it.
Also Mr. Ron Bookout joined us and played slide guitar on some blues tunes and of course some Allman Brothers songs. We will keep an eye out for Ron as he talks of retiring in a few years and to take up playing in a band after he retires.
Remember to make your plans for News Years Eve at the Great Grizzly. This will be our second year there so come on and join us for some blues for the New Year.
New Place for us this Friday 12/04/09
Morgan Le Fay's
14314 S. Outer 40
Town & Country MO 63017,

8:00PM to 11:00PM
Pocketchange at Morgan Le Fay's
Morgan Le Fay's Tapas Bar & Lounge 14314 South Outer Forty, Town & Country 314-317-9181 www.morganlefays.com This is a new booking for Pocketchange, and an early one as well, show starts at 8:00 pm, so come on out and show em a good time!! We hope to see you there, it sounds like a really great place, lots of good drinks, and a full food menu.


10/25/09

How do you convince the drunken patrons that "Brown Eyed Girl" is not a blues song. I think that song finds itself second on the most requested list, just behind "Mustang Sally". Oh well I guess there could be worse things out there to complain about, but that one usually alters the mood of Tim right away. Not a very pleasant "We do not play Browned Eyed Girl" rolls off his tongue. I know Mike and John know what I am talking about.

09/18/09

Special thanks to Mr. Brian Craycraft for helping us out at the Tower Pub

in Howard's absence. Mr. bluesman, bald, blind and wearing the old man shirt, but was

tearing it up on that Carvin through that Marshall. What a tone!! Thanks again Brian

09/05/09

Great time at the Maplewood Maple Days Festival Friday night. Special thanks to the committee for allowing Pocketchange to perform. Bob Harsh thank you for the referral.

06/11/09

An email from Dr. Dan Bauer

There is an old adage that if you really want to do something, you'll find a way, and if you really don't want to do something, you'll find an excuse.

I would like to thank all of you that found a way to support Tour de Cure this year. Thanks on behalf of my family members and the other 24 million Americans affected by diabetes.

Here are some of the members of Gus's Gang that went well beyond the call of duty to make Tour de Cure a success

Tom Bauer and the Pocketchange Band. Tom drove to Grafton one night after work last week to build the stage. He got up before 4AM Sat to drive to Grafton, rode the short route early, then put on a great show. The band played until the last rider finished at 5PM, then had to take everything down. Tom and the band worked harder than any century rider at the Tour.

John and Bob Bauer have their own personal contest each year to see which one can raise the most money. Bob's won the battle the last few years, but John is determined to win this year. With over $3000, he'll be hard to beat but don't count Bob out yet. He put off arthroscopy knee surgery so he could ride Tour de Cure. He's a pretty determined fellow. Both were top ten fundraisers last year.

Allan Cordes, a runner, who's sore knees are turning him into a bicyclist, recruited some running buddies to join him on the century route this year. They picked up another team member, Ellen Donovan, along the route, and worked together to battle that wind. Great job. Allan has raised almost $4000 again this year.

I was shocked to see Rick Ochs at the ride Saturday. He fractured his pelvis and collarbone in a crash this spring, and wasn't supposed to be riding for another month. But there he was, riding Tour de Cure, very gingerly but without training wheels!

Joe Moore, by his own description, is old, fat and out of shape. And he has a bad heart. But, according to Joe, Tour de Cure is a "holy day of obligation." So, once again, Joe was there riding the 50 mile route, and spreading good cheer the whole way.

Joe Cooper hadn't ridden more than 30 miles in a day but Saturday decided to ride the 50 mile route. He battled the wind right to the very end and a big group of us cheered him across the finish line. Way to go, Joe.

Lauren Bauer and Abbie Keenoy are young college women who were willing to get up early Saturday morning for a bike ride! Lauren has been the only family member of her generation to ride Tour de Cure the last couple of years. She "gets it." Abbie rode 50 miles with her Dad, her longest ride ever, with a beautiful smile the whole day.

This was Keith Starke's first Tour de Cure. He enjoyed the upgrade from a hybrid to a road bike, making the 50 mile route much easier. Keith jumped into fundraising and came up with $2775, an excellent first effort.

Bradley Mack doesn't own a bike but he didn't let that stop him. He signed up, made arrangement to borrow a bike, did some training and completed the ride. He raised enough money to qualify for a bike jersey. Now, all he needs is a bike! Maybe Rob Cooper can help him out. He supplied bikes for a few of the Coopers riding Tour de Cure this year.

I'm sure there are hundreds more stories like these to tell, but you get the idea. Sorry if I left anyone out. Thanks again for finding a way. Maybe we can help more people find a way next year, and the year after, until we find a cure.

Ride safely,

Dan



06/06/2009

Great time at the Tour De Cure again this year. Record setting year for the American Diabetes even during the bad economic times. They registered close to 900 riders and collected 325,000.00 compared to 301,000.00 in 2008. Gus's gang was a big part again this year, with just over 100 riders, and the totals are not all in yet but appear to be over 42,000.00.

Special thanks to Mr. Mike Hrubes for taking the sound board this year, and the challenge of trying to make us sound good!!! He even help take the stage down, and deliver it to my house, wow, going way beyond the call there. Thanks again Mike and great job!!

03/29/09

North county loves the Blues!! We really had a great time at Joe's, Bunkers, and Mark's. All three were well attended, and much fun. They all booked us again, so we will be back. We are taking the first weekend in April off, as my daughter Lauren is in a pageant at Murray State University, that we will be attending. We are booked pretty much the rest of April so check the calendar and hope to see you as some shows.

03/15/09

North County was worth the trip. Especially for Larry, who lives in North County! We really had a great time, and great turn out, so thank you for supporting us once again.

Special thanks to Mike Hrubes (Mick Ruby) from Bobby and the Big Wheels for sitting in with us Friday night. He did a great job on guitar and vocals. He pulled out the big dogs, the Gibson Les Paul and Marshall stack!! Wow, that was fun.

01/05/2009

We would like to wish you a Happy New Year and thank you for your strong support during the holiday season. We sure had a great time at the Grizzly Bear on New Years Eve, and at the Jefferson Bistro Saturday night. We had Mr. Darrow Washington on stage with us on New Years Eve displaying some thrilling guitar licks and some entertaining was of displaying ladies lingerie. Mr. Jason Martin returned to the stage in a surprise appearance, and put on a show for the crowd. The ever-popular Lady Di. Joined us to take some photos and video, which can be seen by clicking here http://www.ladydibluescorner.com/Pocket_Change_Band.html

We are back at the Great Grizzly this Friday night, 01/09/09. From 9PM to 1AM. So if you still have energy in the tank, come on out we always appreciate your support

12/13/08

Pocketchange has a pretty busy schedule for the remainder of the month. We are

Playing Friday night 12/19/08 in the University City Loop area at Riddle's on Delmar. Great venue to play. Good food, good location, good crowds, they love the music. We have a great time here.

The following Friday night the 26th. We are back downtown at the Tin Can. Another fun place to play, good crowds, and right in the midst of the expanding downtown business area, just off of Washington Avenue.

Then New Years Eve in historic Soulard, at the Great Grizzly Bear.

Come on out and have a great time with us

10/19/08

I would like to thank all of you for being at Llwelyn's Saturday night for the celebrations. Another year has passed, and I can really relate to Mr. George Burns, when he sang. "I wish I was eighteen Again". Well I do not know if I would really want to go back that far, but it is fun to think about.

Would like to thank Mr. Darrow Washington again for joining Pocketchange for the evening. Fun stuff, when Darrow joins us.

Would like to thank Mrs. Lady Di for spending an evening with us at Jefferson Bistro.

She took some video shots, and some pics, and has them on display on her website

That you can link to from here. http://www.ladydibluescorner.com/. That is her web page, than scroll down a little until you see Pocketchange, and click there, I like video #2 the best. But please watch them both. Send Lady Di an email and let her know you were there. She does a lot of work to support local music, and very well know in the blues Society. Another link right to the videos. Lady Di Blues Corner/Pocketchange

09/14/08

We had a blast this weekend. Riddles on Friday night and Llywelyn"s on Saturday night.

Mr. Darrow Washington was with us Friday night, and rumors have it, was the benefactor of some advertising on the web page.

Tim has some new gear that he has been featuring. A new Dr. Z amp. and a new Weber Speaker set up.

The sound is very warm, and rich. It is worth the time invested in an evening of indulgence. Cold beer, good people, great tone, yes, indulge yourself, your worth it.

07/29/08

We had a very busy weekend. We played Friday night at the Great Grizzly.

We had special guest Darrow Washington with us the entire night. Except when the amplifier quit and he had to run home a pick up another.

Then Saturday night we played at The Tin Can downtown on Locust. We had two friends join us that night. Mr. Tony Patton on keyboards, and Mr. Darrow Washington on guitar.

Monday night we played at a tent party at Don Brown Dodge. Two of the new Challengers were on display for a short time, before the proud owners took them away.

We had Mr. Darrow Washington, and his son Jordan join us for the tent party.

This Saturday Aug. 2nd. We will be back downtown at the Tin Can. Come on out. Plenty of cold can beer, and lots of fun.

05/04/08

Jason Martin resigned his position as lead vocalist for Pocketchange. We thank Jason for his time and performances with the band. We wish him the best in what ever he decides to do.

04/06/08

Jefferson Bistro was pretty wild and crazy Saturday night. Good times, good food, good drinks, and plenty of people watching. See the notes in the gossip section for more details.

Many thanks to the new owner of the Jefferson Bistro. Rich has a good thing going on the south side and we wish him the best. He even has a pretty good Stevie Ray Vaughan Voice!! Getting down with "The Sky is Crying" with the Pocketchange Blues Band.

Thank you for your support again, as we had a very good turn out. Keep telling your friends, or better yet, bring them with you.

See you at the next show

03/29/08

Thank you, for your strong support last night at Riddles. We are going back there on May 31st. Mark your calendar for that one. University City sure supports the local clubs and loves the live music scene. We were happy to a part of it. Mr. Howard Young plays there on Tuesday nights, and found out Brian Curran would not be able to make this gig, so Howard stepped up to the plate and offered our services. They asked us back again, so we will be there, and hopefully more after that.

03/20/08

Pocketchange is proud to welcome Mr. Larry Wohldmann to the band. Larry has been keeping the beat for us the past month and has been great to work with. We offered him the position full time, and Larry has accepted. Come on out Friday night 03/21/2008 at Llwelyns Pub 10 pm to 1 am. Webster Groves location off of Moody www.llywelynspub.com

03/15/08

Good times at J.P.'s Corner last night. St. Patrick's partying, along with a few birthday's and lots of Pocketchange friends and family really made it rocking good time.

Special thanks again to Larry for helping us on the drums this weekend.

Mr. Darrow Washington joined us again, for some great guitar parts, and good times.

We are at Llywelyn's Pub - Webster this Friday night 3/21/08. 10pm to 1am

01/20/2008

Very cold weekend and a big football weekend, we were worried about anyone getting out to hear music over the weekend. Friday night was a little slow, but Saturday night was a very good night. Thank you for your support, and anyone that came by Saturday night was treated to a very good show. Mr. Darrow Washington came by to play some mean guitar, and Mr. Kendall Hoffman found the groove Saturday night on drums and Pocketchange was really having a good time. We hope to continue improving every weekend with Kendall, and this Friday night January 25Th, we will be at the Tower Pub.

01/06/08

We had a good time Saturday night at J.P's Corner. Mr. Kendall Hoffman keeping the beat for us and did a great job for the first time as the real Pocketchange timekeeper.

We really threw him some curves for his first night out. We had two special guests join us for most of the night, Mr. Darrow Washington on guitar and Mr. Brad Waller on bass.

So not only did he not know most of the songs, he did not even know most of the band. He was sick on top of that, and we still had a great sound. I cannot wait for the next show. We had great support from our friends, and family, music lovers and we made some new friends there, so we were very happy with the evening.

Thank you Once again

12/24/2007

Pocketchange is please to announce we have a new drummer! Kendall Hoffman will be our new pace maker. We really had a good time this weekend and we really appreciate the time and effort both Larry Wohldmann and Kendall Hoffman gave us. It was not an easy choice to make, as both of them brought some great chops, great skills, and very good attitudes with them. Both of these guys have had a few years experience, and could really lay down a groove. Welcome to the team Kendall! Keep an eye on the page for some pics, and a bio page.

12/20/07

Wishing every one a very Merry Christmas. Thank you for all your support.

12/12/07

A wise young man once told me when one door closes another one will soon open. Tom May has moved on, and played his last set with the Pocketchange Band. So we are on the search for a replacement drummer. We have had the opportunity to play with several people this last month knowing Tom was moving on, so we are narrowing it down at this time. Next Friday night the 21st and Saturday night the 22nd we will have a couple very fine drummers sitting in for the night. I hope you get a chance to come by and check out the new sound, let us know what you think.

As always, I will keep you posted.

Happy Thanksgiving!!

We are not going to be playing Wednesday night 11/21/2007. We had a booking at Spooty's for this Wednesday night, and they canceled it. So if you made plans to come out and see us, just delay it, until Friday night. We are at The Tower Pub on Friday 11/23/2007.

If you have enjoyed the Pocketchange Band over the last year, and enjoyed the chops, laid down by Tom May I would encourage you to make it a point to come out and see us.

Tom is moving on, and will no longer be the drummer for Pocketchange. He has agreed to stay on with us until we find a replacement or until the end of the year. We have had a great time with Tom, and he has treated us with some pretty cool solo's during the time with us. " One Way Out" will not be the same without that drum solo. Anyway, if you get the chance come on out and catch him before he moves on down the road.

10/10/07

We have just been invited to play at a new location. The R-Spot Bar and Grill. They are just opening, under new management and are opening up the doors for live music every Saturday night. We are playing there on Oct. 20th from 9 pm to 1 am. Located on the corner of Chippewa and Gravois. Across the street from McMahon Ford, on Chippewa.

Come on out and support the owners that support live music. Let them know we all appreciate it.

0914/07

Mr. Howard Young brought out his friends from the high school days last night. That's right, they held their high school reunion last night, and several of them stopped by Spooty's last night. We had a great time, Wow Howard; high school must have been a blast!! Those guys really know how to party!! If anyone got any pic's of that group please send them too me, I would love to put them on the web site. Send them to trunner_2000@hotmail.com

We would like to thank Max Baker from the Baker McClaren band for sitting in with us, while taking a break from his gig, across the street. Joe, (do not know his last name) sat in on bass, during that song, and Mr. Ben Hanvy performed "Hard to Handle" on vocals.

Thank you all very much.

08/19/07

We took the weekend off because I had to do some training for Chrysler. We are back this Friday night at Spooty's.

I signed up for a class in Memphis, (go figure) and 8/17 happens to be the anniversary of Elvis's death. So it was pretty crazy weekend in Memphis. We ended up in B.B.'s club to listen a Blues band, and the second act was an R & B Band, featuring a female entertainer, singer, Aretha style vocalist. Pretty good night, then we walked Beale Street and there were bands playing in every bar, alley, court, etc. any place they could fit a band, and some just outside on the sidewalk in front of the place.

We were so close to the origins of the blues, we decided to take a road trip Saturday morning. Clarksdale Mississippi here we come. The home of Robert Johnson, Muddy Waters, and many more. We saw the famous "Crossroads" Highway 49 and 61. and we took the tour of the Delta Blues Museum. We also, had a few drinks at the famous Ground Zero Blues Club. I like the address, 0-Blues Alley. Where it all began, ground zero, that's were the got the name. There is some much history down there, amazing to see some of it. A few hours is just not enough time, but I was really glad we took the time to go there.

I took a few pics, so just click here if you world like to see them.

07/21/07.

The Tower Pub has become one of Pocketchange regular places to play. We really enjoy the south side hospitality from those that frequent the pub. Rob has done a great job of bringing in the younger crowd, and those that enjoy the live music scene. The support from the area and his staff is really appreciated. We usually see Erin behind the bar on the nights that we play, and she does a great job, we never have any complaints about the service. That means a lot to us. We ask many people to come out and see us play, and it is nice to be able to tell them the service is good.

Mr. Ben Hanvy was on stage with us again, and sang "Hard to Handle". Ben does a great job, and we look forward to him sitting in with the band. Thanks again Ben and Kim for your support. You guys stick it out til the end, and we love it!!

07/15/07

Many thanks to Mr. Ben Hanvy for joining with Pocketchange and showing his vocal talent. Bringing a little New Orleans sound to the popular Clapton song "Tore Down" and SRV song "Pride and Joy" Ben performed very well considering the distraction from the dance floor. Trying to sing while your girl is dancing for you, is quite the challenge. Great job Ben and Kim. Thank you

07/10/07

Pocketchange backstage is happy to report we have a few new places to play. We have been invited back to JP's Corner in south county. And we have been invited to play at

Llywelyn's Pub in Webster Groves.

I will post the dates as soon as I know for sure. We want to thank you for your support. It sure helps us out when we are talking to the owners, just to let them know we have some great people that we will bring to their establishments. If you know of any places you would like to see us play, just let us know and we will try to make contact. It usually takes some time to get into a new place. We have been trying Llywelyn's for close to a year now. Thank you again, and see out soon.

06/10/07.

Tour De Cure 2007 is finished. This year was the first time Pocketchange performed at the event, and I thought it went very well. Many great comments from the riders, volunteers, and committee members regarding having the live music at the event, so if all is well next year, we will be back. Tom May, and his wife Charlene, Tim and Tom Bauer all rode the short family route, then came back to set up, for the performance. We played from around 11:00 am to about 4:00 pm. The weather was beautiful, and our view from on top of the stage was fantastic. I would like to thank all who supported the tour this year. Many people from all walks of life are involved in putting this together and making it happen. Many of my friends and family are all helping out, riding, raising money, and volunteering their time, and their family's time and this really made this tour special for me.

Pocketchange will be back at soulard this coming up weekend. June 15th, and 16th. We are at Spooty's, so come on out. Be sure to check the calendar for the dates and times.

Again, thank you for all you do for us.

06/01/07

No shows this weekend. We are ramping up for the 1st annual Tour De Cure Pocketchange Live show. We will be playing for the American Diabetes Association on June the 9th at the Raging Rivers water park, in Alton Il. I have linked the site from here, if you would find the urge to sponsor me in the ride this year. Click here to visit my personal page.

I am going to ride the bike, and then get back, and play music for the finish line crowd. Hope it all works ok.

Will be sending more information to let you know when we start back up. Or just click on the calendar of events tab to view all of them.

Thank you

05/25/07

We are back at Spootys this weekend. Friday night and Saturday night.Come on out and celebrate Memorial weekend with us.

We are no longer going to be playing at the On Broadway Bistro. We would like to thank Jesse and Angie for having us there, and wish them the best, hope all their plans work out for them.

04/24/07

Come on down to Spooty's this weekend. My daughter Lauren is coming in from school this weekend and she is going to play drums for us Saturday night for the first set. Tom May will be running late, so Lauren is playing the first set. So come on out and see the band.

The return of the Savage Bitches!! You thigh biting savages you!! I loved it. Wow, did that bring back some great memories. You guys made the party, and I know that's not the first time you have heard that. Thank you very much for coming out to Parrot's Saturday night. Good times, lots of fun.

02/03/07.

Good times at Spooty's Saturday night. Great crowd, and much action, forcing you to keep your head up!! See the gossip section for more details. Sketch artist was in the house and kept very busy trying to capture Pocketchange live, of course he had to wait for the set break to try to get Jason, no way to draw him live, he does not sit still long enough for the guy to get him even between breaks. Hot Rod Ron brought out the old Gibson ES335 and performed some Marshall Tucker, ZZ Top, Santana, and of course SRV for the night cap. Tim and Ron had some fun exchanging leads, and doing commercials for Spooty's!! If you missed it, you missed a good one.

01/28/07

On Broadway Bistro is our newest bar that we are playing at. We had a great turn out last Friday night. It seemed like it was going to be hard to get people to show, but finally you braved the location and came out.

We are going to be back at Spooty's the next couple of weekends. So grab a friend and come on out. Mardi Gras weekend we will be at Spooty's; on Friday at our regular time 9 pm to 1 am, and Saturday we are playing from 6:30 to 10:30.

Check the web site, because we are back at the Tower Pub, and Parrot's in St. Charles also.

Thanks for your support,

12/31/06

Pocketchange would like to wish everyone a very Happy New Year!

12/24/06

Merry Christmas to all and thank you very much for making 2006 a wonderful year for Pocketchange.

11/12/06

Special thanks to Mr. Ernest McBride for coming out and singing with the Pocketchange Blues Band Friday night. Really enjoyed the medley of "Stand by Me" great job!

Mr. Tony Patton joined us Saturday night to play to entire evening with us. Tony spent the last several years playing keyboard with the Chris Blair band, and now he is back in town, and spending most of his time with his new wife, and daughter, so not much time for a band gig these days, so we thank Tony for taking the time to fill in for Howard.

10/27/06.

Where were you tonight?

You might ask yourself that question many years from now, just what was I doing when the Cardinals won the World Series. The last time they won was in 1982, we were at home watching the game and after the win, we decided to go downtown to celebrate. So Kathy and I took Tim downtown, and I put Tim on my shoulders and we walked the streets of down town, partying, and having a blast. Some things have changed, I did not put Tim on my shoulders, but we were playing music, partying, and celebrating the win.

Last night when we were driving home, Tim asked me, "Were we at the game when we won in 82, because I remember being on your shoulders, and all kinds of crazy people running around," Tim was 3 years old.

The Parrot's Sports bar in St. Charles had a great turn out for the game, and they stuck around after the game, to enjoy the band, and all the people celebrating the win.

10/22/06

Go you Redbirds!!!! We had a great time at Spooty's this weekend.

Mr. Ernest McBride joined us Friday night onstage as our vocalist. That was a lot of fun, we usually get other musicians come in and play, but not very often do we get a chance to give Jason a rest, and have a guest singer. I work with Ernest, and I heard him singing in the shop one day last week, and said, "Man, you should come out and sing with Pocketchange some night". I was really surprised when he said he would. And even more surprised when he actually did. Thank you Ernest!! "Walkin the dog" got some soul!!!!

Saturday night we had the Redbird crowd in Spooty's, so we waited until the game was over, to start. My daughter Lauren and her friend from school, Vanessa were on a St. Louis road trip, so one of the " have to see" places was Soulard, and of course Spooty's. And when we know who you are!! Well___

"Nobody gets out here without singing the blues" So Lauren joined us as our drummer for a few songs. Thank you Lauren!!

And the night would not be complete without a request for Mustang Sally. This was very different, because Kea requested it, and made the phone call

to Michelle so she could hear it from the cell phone. Now that is customer service, playing requests over the phone!!! Kea was trying to get Jason to sing some Bon Jovi!! Almost succeeded, well, you would have to have been there!!!

And a final thanks to Tim, for sticking it out, Tim was not feeling very well at all and Saturday I thought we were going to have to throw in the towel a couple time. Thanks Tim, and get well soon!!!

Adrian is in Chicago!!!

Thank you Adrian for coming back last night to join us at the Tower Pub.

We had a great time, with special guest Rob Garland, and many of our friends.

Once we got started, it was a great time. We played from 10:20 pm to about 1:15

with one short break about midnight.

I know some of you had to leave before we got started, and I am very sorry about that.

I told the owner, that we could all enjoy both, but he just did not listen. Finally in the eight inning

he let us get started.

Thank you all for coming out and showing your support and wishing Adrian the best in Chicago. Thank you Rob Garland!! Great guitar work! Lot of fun having you play the hole evening.

We are at Spooty's next weekend Friday night and Saturday night the 20th and the 21st.

Hope to see you there

10/01/06

Thank you for coming out to Spooty's this weekend. We had a lot of fun bringing out the new songs. For those of you who know our set list, I know this was fun for you too. We ended up with six new songs, and we played them all both nights. Very seldom does our lead singer Jason tell you the names of the songs, or who the artist is that does them, but Friday night he slipped and Albert Kings name came up. Jason always seems to let the crowd know what the song is about that are getting ready to play, and that by itself is worth coming out to see. You never know what he may come up with. We had the FFF

Night Friday night, we had an unusual request for a birthday song Saturday night. Hope you enjoyed it Brian!!! We enjoy playing that one. That was first time I ever heard that song announced, "This is a song about erectile dysfunctions" "Willy the Wimp!!"

We received notice Friday night that our friend Adrian House took a job, and will be moving out of state. We will really miss Adrian as a musician, and as a friend. I think the Tower Pub will miss him also, I know how much he loves to dance with those ladies!

Adrian will make his last appearance with us at the Tower Pub, on Friday night Oct. 13.

If you have never heard him play, it is worth the trip out to hear him on that fender strat.

Great rhythm, fantastic leads, and not too shabby slide guitar. Come on out and let Mr. Adrian House know how much we appreciate him. We thank you, for your years of dedication, and great friendship. Best wishes to you in Chicago.

09/22/06

No shows this weekend, however we are back in Soulard next weekend. Friday night 09/29/06 and Saturday night 09/30/06. We are at Spooty's, and we have been working on a few new songs, and a new Pocketchange Original!! This one is written by Jason so you know it has to be rated, well just come on out and hear it for yourselves

09/10/06

We had great time at Spooty's this weekend. Thank you all for coming out.

Good crowds both nights, and lots of laughs. Jason even got spanked!!

Yes, turned his back to the crowd, and bent over to get a drink, and yes, he got spanked.

Like I said before, you never know what will happen at a show, so come on out.

We have a couple weekends off, so we will not play until the end of the month. We are back at Spooty's on the 29th, and 30th.

Thank you Mr. Tim Heidemann, drummer for the Blues Drivers, who sat in for us Friday night while Mr. Tom May took his daughter to college.

Thank you Mr. Rob Garland!!

Rob and his wife Heather stopped by Friday night, and Heather was kind enough

to let us steale Rob for one complete set. Now that was fun, and to think not even

a cover charge to hear this great talent.

We are off for the Labor Day weekend, but will be back in soulard at Spooty's

the weekend of the 8th, and 9th.

Come on out, you never know what will happen.

As Jason announced Friday night "Man Down!!". You never know what will happen

08/20/06

We had a pretty good weekend, we played Friday night in St. Charles at Parrots, and we played Saturday night in soulard at Spooty's. We had a couple bass players in the house Saturday night. Brad, who has played with Alex and Adrian House at the Morgan Ford Blues Bar sat in for a few songs and Tom May's brother Ted sat in for a few songs.

08/08/06

Ok, I just have to give my friend Rob Garland a big high five!!!. You know the saying "You can't teach an old dog new tricks" Not true!! Rob Garland has taught this old dog some new tricks...I mean some new licks. For any of you guitar players that have ever thought about taking some lessons, I highly recommend Rob.

08/06/06

Thank you so much for your support over the weekend. We had very good crowds at both of show this weekend. We had friends that joined us after the Kenny Wayne Shepherd show on Saturday, and one of our own Mr. Howard Young was on stage with Mr. Johnny Fox just before Kenny Wayne Shepherd played. A busy, river city blues day for all of them. We had two special guests playing with us this weekend. On Friday night we had Ron Schmiedebush from Hot Rod Ron's sit in on guitar to fill in for Adrian House who got called into work. Yes, that is right, Adrian had to work!!

On Saturday night my daughter, Ms. Lauren Bauer sat in on drums for a couple of songs at my request. She is heading off to college next week so as a going away gift she came up and played. Great weekend, and thank you for sharing it with us. Gabby, send some pics!!

07/09/06.

Thank you all for coming out to Spooty's this weekend. We had a great weekend and great support from all of you. It was nice to give a warm welcome to Mr. Tom May our new drummer. Pocketchange was treated to its first real deal drum solo and we loved it.

We took advantage of it on Saturday night; to take a break, grab a refreshment (or whatever) before rejoining Tom for the ending of the song.

If you were not able to see us this weekend, we will be in St. Charles again at the Parrot's Sports Bar. On Saturday 07/22/06. 9pm to 1am.

06/20/06.

Pocketchange has a new drummer!!. We are proud to introduce Mr. Tom May. as our new full time drummer. We would like to thank Radamir, Mr. Marty Monson, and Alex House for keeping us going while we were looking for a new time keeper.

06/09/06.

Pocketchange would like to thank Mr. Jeff Thompson for his involvement with the Pocketchange Blues Band. Jeff has been behind the drum set for the past couple years keeping the beat for the band. Good luck Jeff and Claudia we wish all the best for you. Thanks again Jeff for time and support.

06/04/06.

Pocketchange made their first appearance in St. Charles on Friday night. We had a very good time and I think the Parrot's Sports Bar will be having us back again. We will let you know the dates when we get them.

Baby K's had us back for the second time on Saturday night. That was a pretty crazy night! We had a blast. Some pictures on the page should let you know what kind of night we had. You know it has to be a fun one when we have Francesca dancing on the bar. Tom Brooks was a dancing machine, with a grand finale during the end of "One way out" nice touch!!

At one time I thought it was ladies night, or should I say ladies club!! Some pretty interesting dancing and more going on with a couple (should I say close girls).

We had Mr. Dennis Hicks sit in a play some smoking blues guitar for us. Stormy Monday Blues and some good ole Honky Tonk. Thank you Dennis.

05/30/06

St. Charles county get ready for Pocketchange. We will be at Parrot's Sports bar this Friday night June 2nd. 9pm to 1 am. Our first time in that area, so if you have never seen us in St. Louis, come on out and show your support.


www.parrotsbar.net
Come check us out in St. Chuck
270 and Page Ave. Extension
take Page X west to the 3rd exit
/ Jung Station
R on Jung Station, the bar is by Subway
Parrot's 636-939-3553


05/06/06

The Pocketchange dancers were at Spooty's last Friday night. It is always fun to watch Jeff and Francesca dance. I somehow think they are a little restricted by the size of Spooty's and I would love to see them on a full size dance floor. They are not really pocketchange dancers, but Tim, that's not a bad idea!!

04/09/06

Spooty's was rock'n Friday and Saturday night thanks to you guys. Thanks for you support, it makes it fun to look up and see friends and family there to support us.

Tim was on a roll this weekend; he is becoming the storyteller. He just loves the House Rent blues story line by George Thorogood; yeah he's pretty funny too!! He was telling stories about Mustang Sally!!! And dance instruction, cheek- to-cheek or_________!!!

Anyway, you never know what is going to happen at a live show, so if have never made it out, come on out and check it out. For those of you that know exactly what I am talking about, keep coming out we love it.

We have a couple new locations coming up pretty soon and I have been asked where they are. One of them just click here for the link, and click on Location www.babyks.net

04/01/06.

We had a great time at the Tower Pub Friday night. We had a guest drummer all the way from Indy; sit in with us, thank you very much Mr. Jeff Lauer!!! You rock!! Great way to start out, playing a ZZ Top song!!! Hard to beat that (get it)!!!

Pocketchange will be at Spooty's this Friday and Saturday night April 7th and 8th.

Thanks again for all your support hope to see you soon

03/17/06

St. Patrick was out in full force Friday night at Spooty's. We had a great time with a lot of friends and family. There was plenty of green in crowd and onstage. I will add some photos to Spooty's link shortly.

We are onstage again tonight same place same time. Spooty's in soulard 9pm.

Come on out if you get a chance.

02/19/06

We had a great time this weekend playing at Spooty's. Thank you very much for your support. It was a lot of fun having Howard Young on stage Friday night. He can really make that harp sing! Saturday night the crowd was a little sparse, but the ones that were there were pretty wound up. Saturday was called " A taste of Soulard" and most the restaurants and bars were involved in this promotion. It ended at 5pm, so the ones that were left were doing more drinking that eating, so it made for an interesting evening. Thanks again for your support, we have been in contact with the Great Grizzly club, and hopefully they will have us in to play.

01/28/06

We are pleased to announce that Howard Young will be joining the band as a full time member. Pocketchange is very happy to have a fine talent like Howard.

South St. Louis was rocking at the Tower Pub Friday night.

The new Don Brown Dodge and Chrysler Jeep team was well represented. Susie and Denise led the way with dance, spirits, song, and counting the band in.

We were privileged to have Mr. Darrow Washington sit in with us and play some fine guitar chops. Mr. Howard Young sat in and played some harp. It is very much fun when other musicians come out and support each other.

01/14/2006

Fun weekend at Spooty's. We had great support from

all of you this weekend, thank you very much!

We played Friday night and Saturday night back to

back We had special guests both nights.

We had guitar players, a soldier from Iraq, (Thank you Katie Grieshaber) harp

players, dancers of all types, and the pocketchange

underwear made some pretty wild appearances.

If anyone took some pics with Katie and Kelley on stage please send them to me. Thank you once again for all your support, you make it a party!!


















The blues are the roots, every thing else is the fruits